Durable & High-Quality Roofing For Businesses In The Coulee Region
Ledegar Roofing specializes in commercial roofing for businesses in the La Crosse, Wisconsin area. We understand the unique and diverse needs of each commercial establishment and pride ourselves on our ability to provide a wide range of high-quality, durable roofing solutions. We are committed to professionalism and ensuring that your commercial roof is not only functional but also looks great.
With Ledegar Roofing, you can trust that we will work closely with you to understand your specific needs and provide a roofing solution that will meet your expectations and stand the test of time. Choose Ledegar Roofing for commercial roofing that you can count on.
Commercial Roofing Solutions for Every Need
Planning and Budgeting
Flat Roofing
Sloped Roofing
Cool Commercial Roofs
Specialty Roofing- Historic Restoration
What Is The Right Roof For Your Commercial Building?
Whether your building needs a slopped roof or a flat roof, Ledegar Roofing installs all available systems. In Order to properly recommend which type of roofing system suits your needs, we'll ask you the following questions:
How long do you plan on owning your building?
What is the purpose of the building?
How long do you need the roof to last?
How often is your commercial roof accessed or walked on for maintenance
of another area or cooling unit, for example?
Are there any outside hazards or emissions?
What considerations do we need to give toward energy conservation; for
example, moisture, and humidity issues?
Is there a required energy saving "R-value?"
What issues may present themselves if your building has a sloped roof?
What environmental or "green" considerations should be given to the roof of your building?
Planning Ahead & Budgeting for your Commercial Roofing Project
Determining your commercial roofing system's life cycle costs:
Some types of commercial roofing may have lower initial costs, but to calculate the actual (or true long term) costs of a commercial roofing system you need to make sure they are measured over the roof's total life expectancy or cycle. The actual costs include maintenance and repair, energy savings, and tear-off and disposal costs related to repair or replacement. The return on investment ("ROI") is an important criteria for many commercial building owners. Commercial roofing systems need to be economical, conserve energy, and provide you with an adequate return on your investment.
What You Need to Know to Get the Best Return on Your Roofing Investment!
We're not providing you with just a roof! We are here to give you a roof customized to your specific needs. We also understand this is a 'business decision' where you need to get the most value for your money. It's important you understand the costs involved annually for the roofing project you choose.
Many factors are taken into consideration when we recommend your roof. A series of questions are asked before we make a recommendation and help you determine the best system for your building.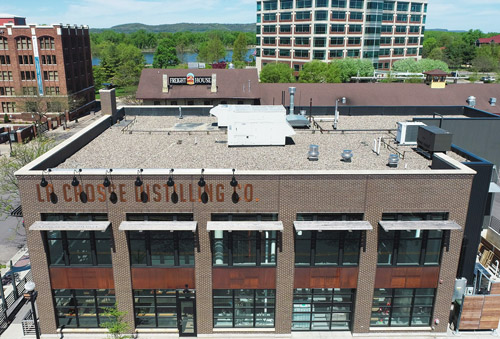 American-Made Products
It is important to us to offer American-made products whenever possible. If this is important to you too, here is a list of products to discuss with your commercial or residential project manager:
EDCO metal shingles and shakes
EcoStar synthetic shingles
Owens Corning asphalt shingles
PacClad metal
GAF
Malarkey asphalt shingles
Versico EPDM and TPO
Carlisle underlayments