Chimney Sweep & Inspection
While many enjoy the warmth and ambiance of a fireplace or wood stove, the cleanliness and safety of your chimney may not be at the top of your mind. Typical recommendations by most fireplace manufacturers state that a fireplace should be inspected and swept at least once a year, and some say more frequently depending on the amount of fuel used.
In addition to safety concerns, keeping your chimney clean and maintained also adds to the efficiency of your appliance.
Chimney Inspections: Visual & Camera!
Ledegar Roofing now brings and extra level of protection using video for the interior inspection of your chimney. This allows us to inspect the interior lining of the chimney liner and flue after cleaning, detecting problems and potential risks much more effectively. We perform video inspections after each cleaning to insure your chimney, home, and / or business is safe.
Dirty Chimneys Increase Fire Risk
You may not know it from the outside, but over time and use of your chimney or wood stove, creosote will build up. This is dangerous for a few reasons.
Creosote is highly flammable; if not properly maintained a spark can ignite this debris and create a chimney fire causing damage to the fireplace, chimney, flue, or to your entire home in the worst-case scenario.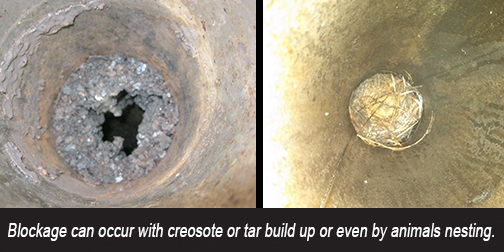 Creosote is a highly acidic byproduct that can cause erosion of
metal flue connectors, as well as mortar joints in clay flue liners. It can also erode the interior components of the fireplace such as the damper assembly, throat, and smokes shelve. Because of the damaging nature of the byproduct "creosote" we recommend having your chimney cleaned in the spring rather than the fall to help prolong the life of the components of your fireplace and chimney.
If the flue isn't maintained regularly, it can cause the air passage through the chimney to be reduced causing smoke and poisonous carbon monoxide to spill into your home. Typically the air passage becoming blocked is caused by improper burning; whether it is from burning wood that is too green, too dry, or simply improper use of the fireplace from lack of familiarity of the system.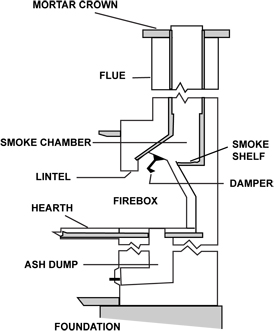 When you call our service department, we will ask you for information about the history of the fireplace, any issues that you may be having, and accessibility of the chimney. We can usually give a ballpark estimate over the phone. Our main goal is to make you as a homeowner safe, and knowledgeable on your system.
In addition to cleaning the inside of your chimney, Ledegar also provides chimney tuckpointing services. During your inspection, any issues with your chimney's exterior will be discussed as well as recommendations made.
Contact us for your inspection and cleaning to be sure your home and family are safe.